FOOD IS MEDICINE

Why are so many of us sick and plagued with disease?

Let's say you have a beautiful plant but one day
you decide to mix a tablespoon of motor oil in
with the daily dose of water. The plant still looks
great but as time goes by it starts getting some
blemishes on its stem. It still looks healthy but
what you don't see is that its roots are rotting
and by the time the leaves are turning yellow it's
too late. What went wrong here? You fed the plant
harmful motor oil instead of pure water and
good compost.
Let's look at the teeth of a cow. A cow is an herbivore,
their teeth are not sharp like a cats but are flat for the
chewing of fresh grass. But man has taken these
animals and fed them corn (to fatten them up) and
dead grass so it is not surprising that more than 90%
of cows are diseased as this is not their proper diet.

Now man has created brutal drugs to keep most of
these cows alive and the hormones given make them
grow bigger and faster than they should. These drugs
and hormones ruin the animal's liver and since many
men only care for money, they do not care that the
meat is of very poor quality for carnivores who eat it.

Now carnivores are going through puberty at young
ages and fatter than ever. What went wrong with this
one? We turned the cow into a CARBOVORE,
poisoned its liver, screwed up its hormones and did
not feed him what he needs to survive.
Let's look at a cat. Cats live on meat and their
teeth are pointed and meant for breaking down
the small rodents that they eat. If you feed a
carnivore nothing but vegetables and grains,
the carnivore dies. I'm not telling you anything
you don't already know, right?

Let's look at human teeth. This is strange. It
looks as though they were herbivores but
developed two sharp teeth for eating a little
meat, so we will call them omnivores. We
were meant to eat mostly fruits and
vegetables and an occasional mouse or
egg here and there.
A hundred years ago, almost everyone had a
garden but now everybody has a grocery store.
Look at it this way: The pharmaceutical
companies and large corporations who supply
the grocery stores are the cattle ranchers and
we are the cows. Our main survival foods
"vegetables and fruit" are full of pesticides,
our meats are full of steroids, drugs and our
unsprouted grains are genetically modified by
Monsato.

Our milk is dead as they pasteurize
it (heat it to hundreds of degrees in temperature
or irradiate it so as to kill it completely) and
homogenize it. Wait a second.........humans are
the only species on the planet who consume
milk after being weaned from their mama.
Raw milk is good for you but it is illegal in most
"civilized" countries. So we could point our finger
at "The Man" for passing laws that made raw
milk and medicinal plants illegal but we were
the ones who stopped planting gardens and
contributed money to their drugs, poisons,
governments and GMO food. We are dying so
young and the "ranchers" are achieving great
wealth. We are the cows that eat nothing but
grain and poison. We are the rabbits that eat
meat. We get very little exercise as we watch
TV so much. This is why so many of us are sick
and plagued with disease.
We eat the way we should. Humans have been
found to live more than a hundred and twenty
years when they eat raw fruits, vegetables,
sprouted grains, nuts and seeds without pesticides.
These healthy 120 year olds get lots of exercise,
drink fresh water (no fluoride) and raw goats
milk and eat small amounts of organic meat.
Exercise is very important (use it or lose it).
Your TV is in actuality killing you so
throw it out and start exercising!
Eat right, get exercise and plant
a backyard garden....or else!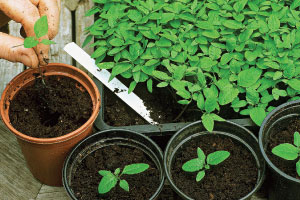 An Organized Garden
Lisping Wise One "Eternal Bells"
Elder Blue Person
http://lispingwiseone.blogspot.com
Keeping An Organized Garden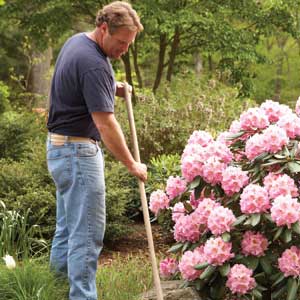 Illustration by Narda Lebo



I'm not the most organized person in the world, but a
gardener once gave me a valuable idea that I still use.
It's a garden notebook — a simple three-ring binder
that you can use to keep a record of everything in your
garden. You can make photocopies of seed packets,
punch holes in the page, and put it in the binder. Then
when you lose your seed packet or marking stick, you
can still tell what variety of to
mato you're growing.
Some people mount the actual empty packet on a piece
of paper and put it in the binder.

If you take pictures of your garden, you can put them
in the binder to follow the growth of each area, or get
a panoramic view to help with future planning. I like
taking pictures of my bulb beds in the spring. Then,
when I want to change or add to these beds in the
fall, there's a record of what's already there. I never
remember what color is where, so without the photos
I'd just be guessing. The pictures in my garden note
book let me be absolutely sure of where everything is.

The notebook is also great for making seasonal
observations and comments and keeping them in one
organized place. I also put in tip sheets from nurseries,
extension services, or garden centers, and I'm actually
able to find them when I need them.

Join us at the Gathering!